If your preference leans towards soft and chewy oatmeal cookies, then this is the perfect Oatmeal Raisin Cookie recipe for you! These cookies strike the ideal balance with a delightful crispiness at the edges, generously adorned with plump, juicy raisins. They boast a buttery flavor profile, complemented by a subtle hint of cinnamon. As they bake, the aroma wafting from the oven is simply heavenly, and they also maintain their freshness exceptionally well over time!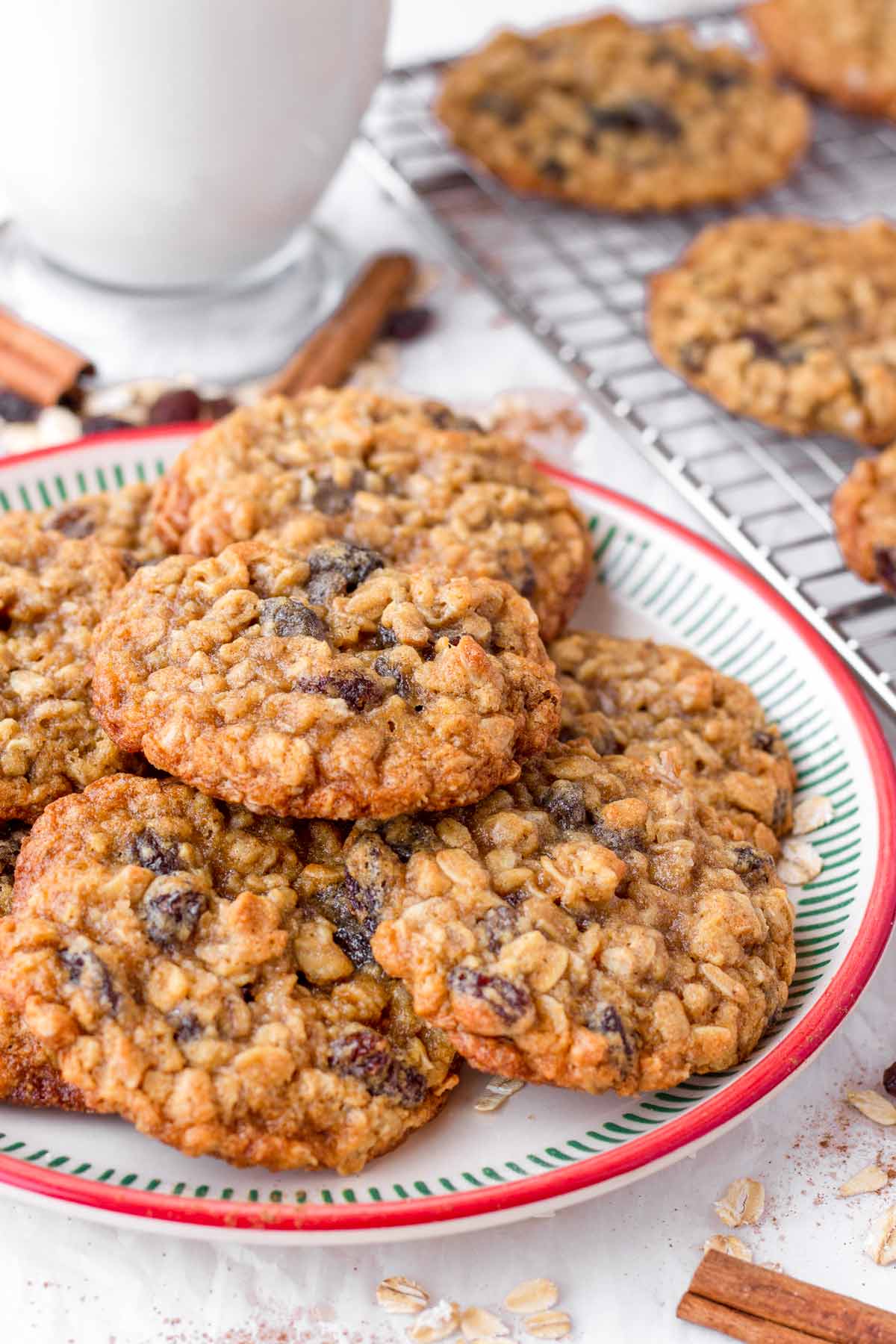 Oatmeal Raisin Cookies
As someone who tends to favor savory over sweet treats, I rarely succumb to the temptation of buying cookies or pastries displayed enticingly on the counters of coffee shops. That is, of course, unless they happen to be those generously-sized, plump Oatmeal Raisin Cookies.
You see, my heart lies with oatmeal cookies infused with fruit and spice, and they hold a higher place in my culinary affections than even chocolate chip cookies. To me, there's something truly magical about the combination of warm cinnamon and the presence of fruit nestled within a chewy, caramel-flavored cookie. It evokes a sense of pure comfort and nostalgia, like the taste of home itself.
You can keep your trendy, Instagram-worthy, hipster cookies; just pass me all the Oatmeal Raisin Cookies, and you can call me a granny if you like—I won't mind one bit!
Ingredients for Oatmeal Raisin Cookies

This recipe closely follows the framework of a Cook's Illustrated recipe, which, I must add, took them a remarkable six months of dedicated effort to craft the perfect soft and chewy Oatmeal Raisin Cookie. Their unwavering determination deserves applause, especially because it means we can now indulge in the sweet rewards of their labor!
Here's a breakdown of the key ingredients and insights:
Butter (at room temperature) – When recipes call for room temperature or softened butter, it should be slightly firmer than you might think, ideally around 18°C / 64°F. This consistency is soft enough to whip until creamy yet still cool enough that it won't leave a greasy residue when touched. Using overly soft butter can lead to cookies that spread excessively or crack during baking, a common pitfall in cookie making. A quick method to bring cold butter to room temperature involves cutting it into 1.5cm cubes (or 1/2-inch thick slices for a US stick of butter), placing it on a plate, and then microwaving 2 cups of cold tap water for 4 minutes on high. Afterward, remove the jug, swiftly insert the plate with the butter, and close the microwave door. Do not turn the microwave back on. The residual heat will soften the butter in about 5 minutes.
Baking powder – While many recipes use baking soda (bicarbonate of soda) or a combination of baking soda and baking powder, this particular recipe relies solely on baking powder, a choice made by Cook's Illustrated to achieve a chewier cookie texture.
Flour – Plain or all-purpose flour is the type to use here. Self-raising flour cannot be substituted because it contains too much leavening agent (baking powder).
Brown sugar AND white sugar – The combination of brown sugar and white sugar serves a dual purpose. Brown sugar enhances the chewiness of the cookie and imparts a delightful caramel note, while white sugar contributes to the crispy edges of the cookie. The interplay between these textures, with the crispy edges offsetting the soft center, is one of the secrets behind these cookies' appeal.
Raisins – Personal preference comes into play here. Soaking raisins briefly in hot water to make them tender and plump is not a step in the Cook's Illustrated recipe, but it's a choice I like to make.
Eggs at room temperature – It's crucial that the eggs are at room temperature rather than cold from the fridge, as this ensures they blend seamlessly into the cookie dough. To quickly bring cold eggs to room temperature, place them in a large bowl, cover them with warm tap water (just warm, not hot), and let them sit for 5 minutes. Then, wipe them dry before using them in the recipe.
Egg size ("large eggs") – The industry standard for "large eggs" in Australia and the US is approximately 50-55g / 2 oz per egg, including the shell. If your eggs differ significantly in size, you can weigh them individually to achieve a total weight of 100-110g / 4 oz, including the shell, or 90-100g / 3.6 oz, excluding the shell. This can be helpful when using partial eggs to reach the required total weight. Crack the eggs, beat the whites and yolks together, and then measure the quantity needed.
Cinnamon – This spice reigns supreme in the realm of cookie flavorings. In this recipe, it adds just a subtle hint to remind you of its presence without overwhelming the overall taste. This is a departure from the Cook's Illustrated recipe, which omits cinnamon to allow the oats to take center stage. However, the inclusion of cinnamon is essential for my taste buds!
Salt – A pinch of salt elevates the flavor profile of sweet baked goods, enhancing their overall taste.
How to make Oatmeal Raisin Cookies
PART 1: COOKIE DOUGH

Here are the steps to prepare the Oatmeal Raisin Cookies:
Optional Raisin Soaking:

If desired, soak the raisins to plump them.

Drain and Dry Raisins:

After soaking, drain the raisins and allow them to dry naturally or pat them dry with a paper towel to speed up the process.

Sift Dry Ingredients:

Sift the dry ingredients into a bowl.

Beat Butter, Sugar, and Egg:

In a separate bowl, beat the butter until it becomes smooth and creamy.
Then, add both brown and white sugars and beat the mixture until it becomes fluffy, which should take around 2 minutes on high when using a handheld beater.

Incorporate Eggs:

Add the eggs one at a time, beating them in until fully incorporated.

Add Dry Ingredients:

Switch to a wooden spoon and gently mix the sifted dry ingredients into the butter-sugar-egg mixture. It's recommended to do this step by hand rather than using an electric beater to avoid accidentally overworking the cookie dough, which could result in tough cookies.

Oats and Raisins:

Finally, stir in the oats and raisins. At this stage, the cookie dough will become quite thick and may be a bit challenging to stir, but don't worry; it's manageable and well worth the effort! (Just a little cookie dough humor—no need for superhuman strength!)
PART 2: ROLLING AND BAKING

With the cookie dough ready, it's time to get baking!
Portion Out Cookies on the Tray:

Scoop out approximately 2 tablespoons of cookie dough and place it in a mound on a tray for each cookie. Using an ice cream scoop with a lever or a cookie scoop can speed up this process.

Repeat:

Continue this process with the remaining dough. Personally, I find it more efficient to portion out all the dough onto trays before beginning to roll them into balls.

Roll into Balls:

If needed, dampen your hands slightly to prevent the dough from sticking. Gently roll each portion of dough into a ball, aiming for a size of about 5cm / 2″ in diameter.

Flatten Dough Balls:

Arrange the dough balls on two baking trays lined with parchment paper, ensuring there is ample space between them (refer to photo #5). Lightly press down on each ball to flatten it slightly. This step helps ensure even spreading during baking, preventing a mound from forming in the middle.

Bake:

Place both trays in the oven, with one positioned on the middle shelf and the other on a lower shelf, maintaining a 10cm / 4″ gap between the racks. Bake at 180°C / 350°F (or 160°C with a fan) for 11 minutes. Then, swap the tray positions and continue baking for an additional 11 to 14 minutes. The cookies should turn golden at the edges and have a LIGHT golden hue in the center. Be cautious not to overbake, as that can result in crisper cookies.

Cool:

Allow the cookies to cool on the trays for 5 minutes before transferring them to a cooling rack. Let them cool for 30 minutes before serving. In my humble opinion, this recipe is the ultimate Oatmeal Raisin Cookie recipe, and it's the only one I've used since discovering it.
That being said, I've also stumbled upon another Oatmeal Raisin Cookie recipe on the delightful baking blog "Brown Eyed Baker," curated by the talented Michelle. This recipe originates from the famous New York bakery, Sadelle's. Michelle believes it surpasses the Cook's Illustrated version (which I noticed she also features on her blog!). I trust her judgment on this matter.
However, there's a significant catch with the Sadelle's recipe—it requires the cookies to be flattened on the baking sheet and then refrigerated for a staggering four days, supposedly to enhance the depth of flavor. Yes, FOUR WHOLE DAYS!!!
So, if this makes my preferred recipe the second-best Oatmeal Raisin Cookie in the world, I'm absolutely fine with that because at least you can make these RIGHT NOW!!!