Coated in a delightful Asian Sesame Peanut Dressing, these Sesame Noodles are a wonderful choice whether enjoyed at room temperature or warmed. They shine as a superb side dish. Alternatively, you can transform them into a wholesome meal by incorporating shredded vegetables such as carrots, cabbage, and bean sprouts. And why not consider adding some shredded chicken for an extra protein boost?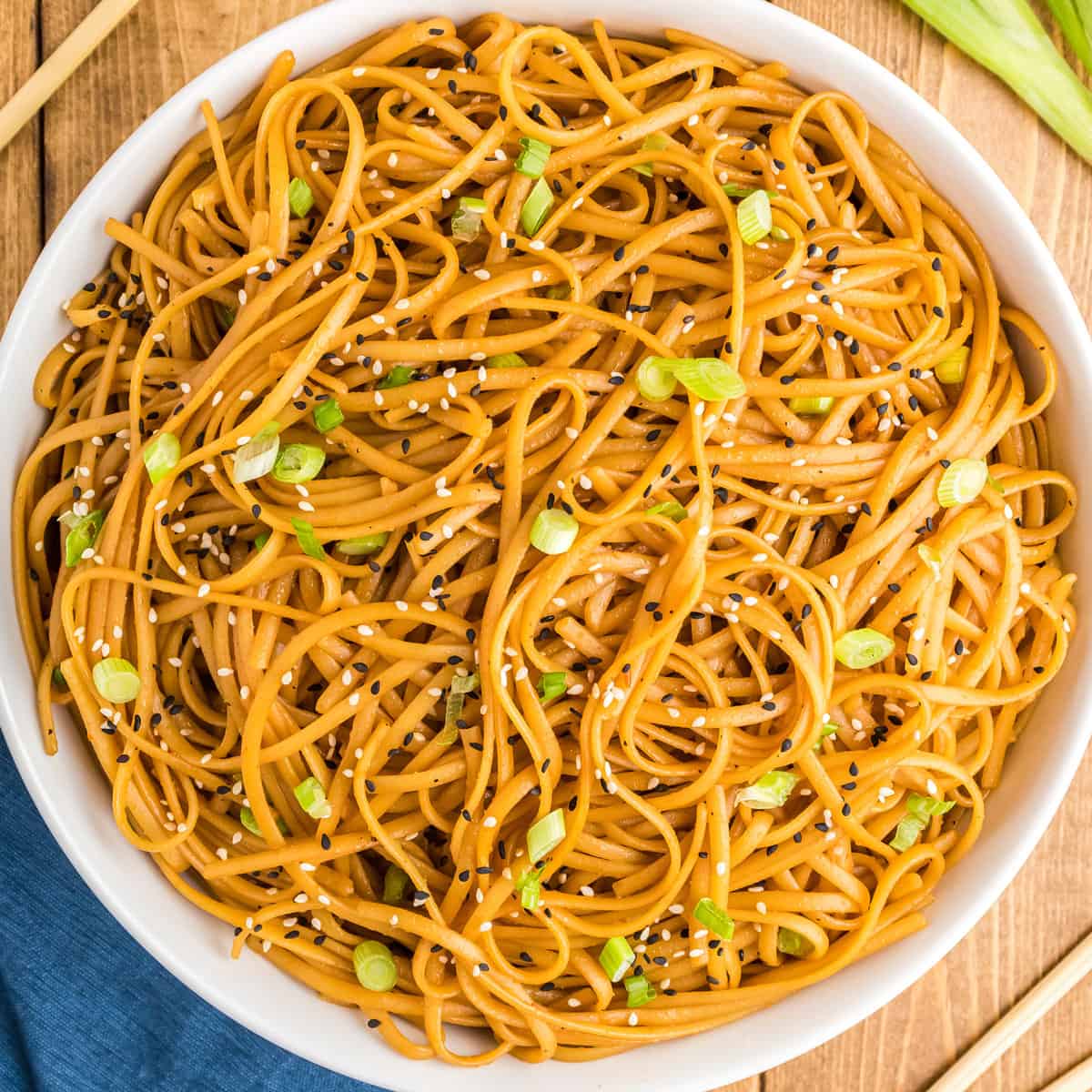 Sesame Noodles

There are actually quite a few noodle dishes that I'm acquainted with that are best enjoyed warm rather than at room temperature. However, this dish happens to be an exception. This characteristic makes it an excellent choice for gatherings or work lunches.
Alternatively, it's a fantastic side dish that can be conveniently prepared well in advance – a relief when you're aiming to serve a sizable group without adding to the heating demands.
Its adaptability is a standout feature; you can present it as is, just as demonstrated, or enhance it with additions like additional vegetables and perhaps even shredded chicken. These adjustments can make it heartier and transform it into a complete meal!
Dressing for Sesame Noodles
The true standout in these Sesame Noodles is undoubtedly the dressing. This Asian Sesame Peanut Dressing boasts an incredibly delightful fusion of sweetness, tanginess, and saltiness that's simply irresistible.
It's true, the list of components in the dressing may be a bit more extensive than my typical dressings.
However, the end result unquestionably justifies every ingredient – the flavors it brings forth are completely worth the effort!
Best noodles for Sesame Noodles

When crafting Sesame Noodles, I prefer utilizing fresh noodles over dried ones. This preference is rooted in the fact that fresh noodles possess a smoother texture, allowing the sauce to envelop them uniformly without excessive absorption.
With that being said, it's important to note that this Sesame Noodles recipe remains exceptional whether prepared with virtually any variety of noodles – whether they're fresh or dried.
Add Ins!
While I've presented these Sesame Noodles as a simple side dish, the generous amount of dressing allows for the addition of vegetables and even shredded chicken, transforming it into a well-rounded meal.
For instance, consider this example: I incorporated shredded chicken, along with shredded cabbage, carrots, bean sprouts, and edamame, effectively elevating this dish into a satisfying and complete dining experience:
How to serve Sesame Noodles

I typically present plain Sesame Noodles as a side dish, which works wonderfully alongside Asian cuisine (making it a fantastic addition to Asian BBQ gatherings). However, the Sesame Dressing's versatility extends beyond Asian flavors, enabling it to complement Western, Caribbean, Hawaiian, or Tropical-themed main dishes with equal finesse.
Consider these suggestions for Asian dishes that pair well with these noodles:
Asian Marinated Chicken (grilled or pan-fried)
Asian Chilli Garlic Prawns (Shrimp)
Chinese Crispy Pork Belly
Char Siu (Chinese Barbecue Pork)
Chinese Lettuce Wraps (San Choy Bow)
Potstickers (Chinese Pan-Fried Dumplings!) or Japanese GYOZA (Dumplings)